Bearings for medical equipment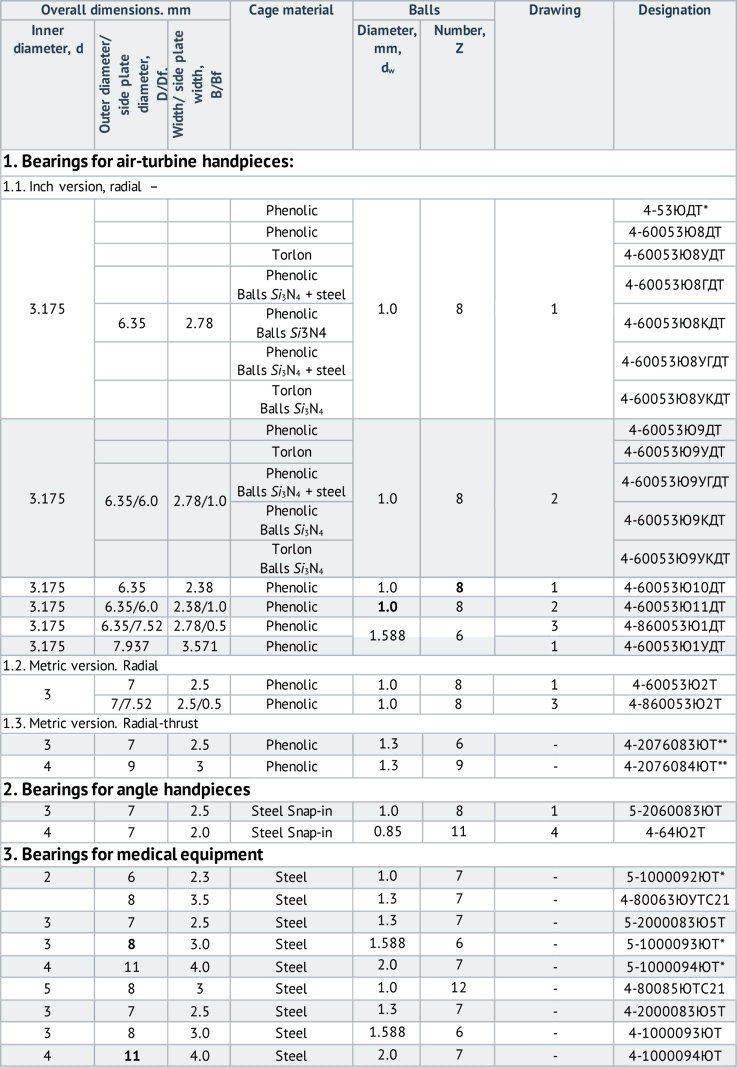 The range includes bearing assemblies for artificial blood-circulation apparatus, bearings for X-ray and dental equipment – air-turbine handpieces with the rotational speed of up to 400,000 rpm, and micromotors. Special stainless steel 60Х13С-ШД developed by the plant is used for manufacture of races and balls; bearings made of it have a lower vibration level in comparison with bearings made of steel 110Х18М-ШД. The cage is made of phenolic capable to withstand autoclaving.
Notes:
1. Cage type designation:
two-piece steel ribbon cage;
snap-in phenolic cage;
one piece phenolic type.
2. Configuration of bearings:
«К» – ceramic balls;
«Г» – ceramic or steel balls;
«У» – cage from torlon.
3. Bearing type designation:
* – bearings without side plates;
** – split bearings without side plates.
4. Bearings for air-turbine handpieces must be lubricated with a spray for installation in the handpiece.
5. «С21» – "ЭРА" grease injected in bearings.
6. Specify full designations to order the bearings.
Bearing type
Information on application of bearings in dental handpieces

60053Ю8ДТ

CJSC Tayfun-Med: NTSK-300RA, NTKSsv-300-02
W&H: Top-Air-195RM; Top-Air-TopLite 700, 800, 898; Synea TA-98L
NSK: Phatelus II&III SU03-TU03-MU03
Pana Air SU03-TU03 (Green-Black)
Pana Air Small Head MU03 (Red Band)
Optica-Top Bearing (Check), CHQD, CRT-35Y
BIEN AIR: Prestige S 32, Ondine
MIDWEST: Quiet Air – Quiet Air Compact, Tru-Line, Tradition 400
FARO: Delta, S400 – S405, BTC77
DABI-ATLANTE: RS350
DMF: Tru Speed, Aden
RITTER: Accutorq Micro Mega 350


60053Ю9ДТ

Mikrotekh, LLC: NTSK-350
Turbodenta: NTSBK-30
KaVo: 632D-632E; 614A-624-625C-625D-627FG; 642B-642C PB; 642A FG
Bellatorque 632-642; 639B-639C PB; 630 – 630C PB
Supertorque 625 – 630 – 640; 639A FG
CHIRANA Satur: TG 526, 542, 543
SYRONA: TS1, TS2, 40000S/SL, 3000S
MTI: Lynx

60053Ю10ДТ

W&H: TopAir-100 Series, -200 Series, -300 Series
FARO: S380
LARES: Workhorse, 557BP(TURBO+), 330E, 757, 557SR
NSK: CHQD
NAKANISHI: CRT-40P, Pana Air Σ-T, Σ
TKD: Titan, Turbina Mini Master, Miera, Thera
KMD: Colibri
YOSHIDA: Friction Grip

60053Ю11ДТ

KaVo: Bellatorque 628, MAGNO 634, 628 – 629 FG
DABI-ATLANTE: MS350
SIEMENS: 4000, TM1 & TM1 Control
NAKANISHI: CRT-40P (rotor group)

860053Ю1ДТ

PANA-AIR: Eagle High Speed, ∑-S
CASSTELLINI

60053Ю1ДТ

NPP Mikron: Pearl
BIEN AIR: Bora S36, Black Jack (Chroma)

860053Ю2Т

Russian handpieces, type NTS-300-05, NTK-300

2076083ЮТ

Russian handpieces, type NTS-300-04

2076084ЮТ

Russian handpieces, type NTB 250, NU-40M, NP-40M, DB-25

2060083ЮТ

Russian handpieces, type NU-40M, NP-40M, MPT-30, MP-40C

80063ЮУТ

Russian handpieces, type MP-20; DB-40C

1000093ЮТ

Russian handpieces, type NPM-40-02; NPM-40

1000094ЮТ

Russian handpieces, type RGT-10; NP-30-03M

2000083Ю5Т

Russian handpieces, type NU-40M, MPT-30, MP-40C

1000093ЮТ

Russian handpieces, type NPM-40-02, NPM-40

1000094ЮТ

Russian handpieces, type RGT-10; NP-30-03M